BEDSLIDE APPLICATION GUIDE
Looking for the exact part number for your bed? All the info you need is below.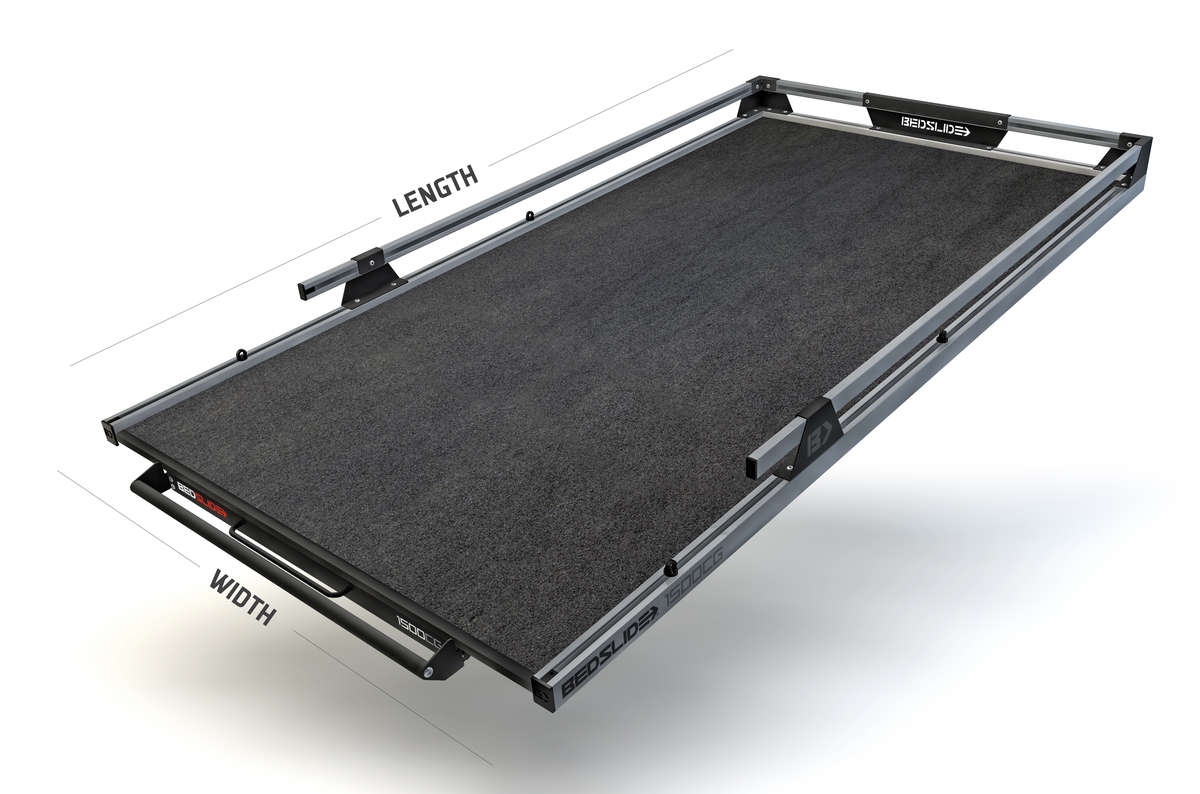 Each part number can identify the weight capacity, size and model.
Example: Part 10-9548-CL
10 = 1000lbs capacity
95 = 95" long
48 = 48" wide
CL = CLASSIC model
Measurements are outer dimensions and include the handle. BEDSLIDES are made with a .25" tolerance. Be sure to double check your truck bed or van space for proper fitment.
CHEVROLET / GMC

MODELS
YEARS
FITMENT SIZE
BEDSLIDE S PART
WEIGHT
CLASSIC PART
WEIGHT
CONTRACTOR PART
WEIGHT
HEAVY DUTY PART
WEIGHT
Colorado / Canyon - 6.1' Bed
04 - 14

70"L x 41"W
1-7041-S
142
10-7041-CL
194
Colorado / Canyon - 6.1' Bed
15 - C
71"L x 42"W
1-7142-S
141
10-7142-CL
201
Colorado / Canyon - 5.1' Bed
04 - C
58"L x 39"W
1-5839-S
135
10-5839-CL
161
S-10 / Sonoma 6' Bed
76 - 03
70"L x 38"W
1-7038-S
140
10-7038-CL
192
Silverado / Sierra 8' Longbed

70 - C
95"L x 48"W
1-9548-S
190
10-9548-CL
263
15-9548-CG
325
20-9548-HD
387
Silverado / Sierra 6.5' & 6.6' Beds
70 - C
75"L x 48"W
1-7548-S
150
10-7548-CL
208
15-7548-CG
257
20-7548-HD
305
Silverado / Sierra 5.5' & 5.8' Beds
04 - C
65"L x 48"W
1-6548-S
140
10-6548-CL
180
15-6548-CG
222
Suburban / Yukon XL - Cargo Door & Lift Gate
92 - 14
63"L x 47"W
1-6347-S
140
10-6347-CL
175
15-6347-CG
215
DODGE MODELS
YEARS
FITMENT SIZE
BEDSLIDE S PART
WEIGHT
CLASSIC PART
WEIGHT
CONTRACTOR PART
WEIGHT
HEAVY DUTY PART
WEIGHT
Dakota 6.6' Bed
11 - 12
75"L x 43"W
1-7543-S
150
10-7543-CL
206
Dakota 5.4' Bed
00 - 12
62"L x 43"W
1-6243-S
140
10-6243-CL
172
Ram 1500/2500/3500 8' Beds
81 - C
95"L x 48"W
1-9548-S
190
10-9548-CL
263
15-9548-CG
325
20-9548-HD
387
Ram 1500/2500/3500 6.5' Beds
81 - 01
75"L x 48"W
1-7548-S
150
10-7548-CL
208
15-7548-CG
257
20-7548-HD
322
Ram 1500/2500/3500 6.4' Beds (Includes RamBox)
02 - C
73"L x 48"W
1-7348-S
150
10-7348-CL
202
15-7348-CG
250
Ram 1500 5.7' Bed
09 - C
65"L x 48"W
1-6548-S
140
10-6548-CL
180
15-6548-CG
222
Ram 1500 5.7' Bed w/RamBox
09 - C
63"L x 47"W
1-6347-S
140
10-6347-CL
175
15-6347-CG
215
FORD MODELS
YEARS
FITMENT SIZE
BEDSLIDE S PART
WEIGHT
CLASSIC PART
WEIGHT
CONTRACTOR PART
WEIGHT
HEAVY DUTY PART
WEIGHT
F150 8' Bed
70 - C
95"L x 48"W
1-9548-S
190
10-9548-CL
263
15-9548-CG
325
20-9548-HD
387
F150 & F-Series 6.5' Bed
70 - C
75"L x 48"W
1-7548-S
150
10-7548-CL
208
15-7548-CG
257
20-7548-HD
305
F150 5.5' Bed (Includes Mark LT / Raptor)
01 - C
65"L x 48"W
1-6548-S
140
10-6548-CL
180
15-6548-CG
222
F250 / F350 SuperDuty 8' Bed
98 - C
95"L x 48"W
1-9548-S
190
10-9548-CL
263
15-9548-CG
325
20-9548-HD
387
F250 / F350 SuperDuty 6.9' Bed
98 - C
79"L x 48"W
1-7948-S
158
10-7948-CL
219
15-7948-CG
270
20-7948-HD
322
Ranger & B Series 6' Beds
98 - C
70"L x 38"W
1-7038-S
140
10-7038-CL
192
NISSAN MODELS
YEARS
FITMENT SIZE
BEDSLIDE S PART
WEIGHT
CLASSIC PART
WEIGHT
CONTRACTOR PART
WEIGHT
HEAVY DUTY PART
WEIGHT
Frontier 6' Bed
05 - 07
70"L x 41"W
1-7041-S
142
10-7041-CL
194
Frontier 6' Bed
08 - 16
71"L x 42"W
1-7142-S
142
10-7142-CL
201
Titan 8' Bed
04 - 15
95"L x 48"W
1-9548-S
190
10-9548-CL
263
15-9548-CG
325
20-9548-HD
387
Titan 6.5' Bed
04 - 16
75"L x 48"W
1-7548-S
150
10-7548-CL
208
15-7548-CG
257
20-7548-HD
305
Titan 5.5' Bed
04 - 17
65"L x 48"W
1-6548-S
140
10-6548-CL
180
15-6548-CG
222
TOYOTA MODELS
YEARS
FITMENT SIZE
BEDSLIDE S PART
WEIGHT
CLASSIC PART
WEIGHT
CONTRACTOR PART
WEIGHT
HEAVY DUTY PART
WEIGHT
T-100 8' Bed
93 - 99
95"L x 48"W
1-9548-S
190
10-9548-CL
263
15-9548-CG
325
20-9548-HD
387
Tacoma 6' Bed
05 - C
70"L x 38"W
1-7038-S
140
10-7038-CL
192
Tacoma 5' Bed
02 - C
58"L x 39"W
1-5839-S
135
10-5839-CL
161
Tundra 8' Bed
07 - C
95"L x 48W
1-9548-S
190
10-9548-CL
263
15-9548-CG
325
20-9548-HD
387
Tundra 6.5' Bed
07 - C
75"L x 48"W
1-7548-S
150
10-7548-CL
208
15-7548-CG
257
20-7548-HD
305
Tundra 5.5' Bed
07 - C
63"L x 47"W
1-6347-S
140
10-6347-CL
175
15-6347-CG
215